"God, you made me strong in battle. You made my enemies fall before me.
You made my enemies turn and run away." Psalm 18: 39-40
Home
Paint Ball
Most youth and church groups have or know of people that would love the chance to learn while having fun doing it, and plain and simple, shoot you with a paintball!
We have and will provide a positive Christian environment for all people to fellowship with and learn from each other. We will train leaders and groups to go into the world more aware and equipped to combat and take part in this battle of spiritual warfare we are faced with everyday.
We are aware that paintball guns and masks will not help us in this type of battle, since "...the weapons of this war are not of this world." However, we would like to use paintball as a vehicle to bring about team building, leadership development and fellowship.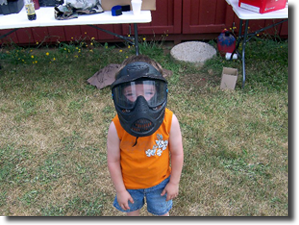 We want to make it possible for churches and organization to receive quality training in a forum to bring their friends.
We envision having enough equipment to host and equip 20 players at one time for a self-contained large event. At this time God has given us the ability and resources to equipment 10+ players at one time. We can have teams to accommodate larger groups and some have their own equipment. We have the means and resources to transport all the equipment. We want to make it as easy as possible to meet you and your ministry field where you are at!